Community Coalition Program (CCP)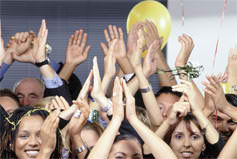 The CCP Community Coalition known as NAC-CAN is a community based effort in Nacogdoches County to create community awareness regarding the health consequences of substance use and abuse specific to the state's three prevention priorities of underage drinking, marijuana and prescription drugs.
Staff work with youth and adults in the community to create awareness on the dangers associated with use and abuse of alcohol, marijuana and prescription drugs.
The CCP is always looking for increased participation from the community, both youth and adults to serve on committees which focus on creating a safer environment for Nacogdoches County.
To learn more about this program or to join the coalition contact
Prevention Program Manager
Kim Simmons 936-631-8789
Or visit us
1407 N. University Suite B-2
Nacogdoches TX 75961
936-569-7678
Coalition Coordinator - Cindy Vargas
Community Liaison -